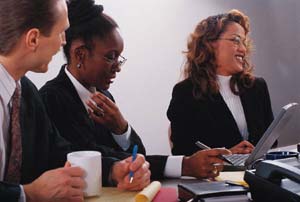 Here are some testimonials about Warren Goldman:
Ken Barnes
Manager Finance at Fusion Wireless Inc.
Warren has helped me establish my business. I found him a person with great integrity; he has a wealth of business experience and offers modern business solutions. Over the years he has advised me with tax planning and kept me under control and out of trouble with the IRS. Warren is always available and provides quick turn around on short notice.
Joseph Lupia
Business Leader focused on the Intelligence Community
Warren has provided me with various tax and accounting assistance over the past several years. He has a thorough understanding of the tax code, its implications and deep understanding of GAAP. Warren has a solid work ethic and approaches business problems with a fair and objective approach. I thoroughly enjoy working with him and highly recommend him.
F. LeAnn Reed
Accountant at MAV6
Warren is very knowledgeable in all aspects of accounting. He is dedicated to his work, does what it takes to ensure that all procedures and systems are current and accurate. He really excels at his job and is a great asset to have on your team. He handled very difficult situations at JWK that required a great deal of finesse and diplomacy with positive results. Warren was a great mentor to me, I learned so much in my own quest to advance in the accounting field. He is an individual that I have had the great pleasure of working for/with at two companies and he has my total respect and highest recommendation for his in depth knowledge and terrific work ethics.
Beverly Anker
Senior Policy at United States Government
Warren is a detail oriented person who explains any questions that I may have. When I had some trouble getting some money back from the IRS, he knew exactly what to do and did it right away. I can reach him immediately by e mail when I need him. It only takes him a few days to complete the six returns I have to send in. His cost is reasonable. He is trustworthy and I can rely on him without worry.
Andy Drumm
International Development Consultant
When my tax situation changed Warren was able to provide very clear, helpful and reassuring advice on how to respond.